Opis
do88 racing oil cooler for Toyota Yaris GR!
Key advantages with do88 racing engine oil cooler:
– Setrab slim line oil cooler with large front area.
– Custom designed brackets.
– Leightweight motorsport grade PTFE hoses with crimped fittings of correct type and size in all ends to avoid unnecessary joints and adapters.
– Sandwhich plate adapter with thermostat (opening temperature 80°C).
– Lowers oil temperature about 20°C at track use!
Fits:
Toyota Yaris GR
Årsmodeller: 2020-
Designed to be installed in between do88 intercooler and radiator. Also possible to install with OE intercooler according to installation instuction.
The do88 Yaris GR performance upgrade oil cooler kit is designed to maintain a healthy engine oil temperature even during heavy load such as track use. This is really needed as oil temperatures too high might harm the engine and during track use the oil temperature will be too high and just keep on rising. In the same scenario with do88 racing oil cooler installed the temperature will be significally lower and more stabilized. During our tests the do88 racing oil cooler lowered the engine oil temperature about 20°C!
This oil cooler kit is designed for a perfect fit with do88 Yaris GR performance intercooler but it is also possible to install with the original intercooler if that is relocated in forward direction according to installation instruction. This oil cooler can be installed with other aftermarket intercoolers as long as it is possible to install it in a way that creates a gap between the intercooler and the radiator of minimum 42mm.
This product comes with everything necessary for an easy installation. Bolts, washers, hoses, brackets and installation instructions is of course included.
Do take care of your engine. Choose do88.
The yellow line in this log shows the engine oil temperature during track driving at Mantorp Park without do88 racing oil cooler at 19-20°C ambient temperature: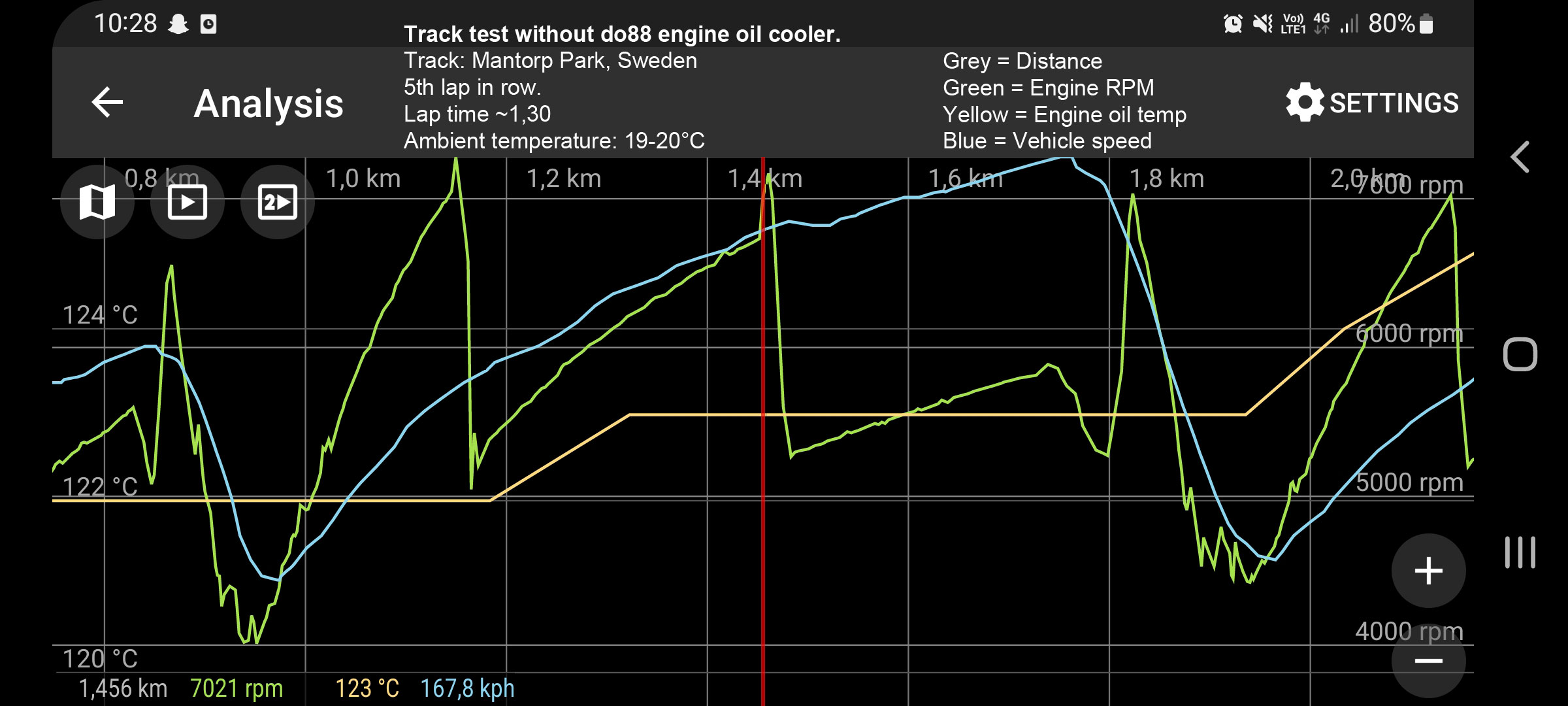 The yellow line in this log shows the engine oil temperature during track driving at Mantorp Park with do88 racing oil cooler at 25°C ambient temperature: